Welcome to AADYANT SCHOOL.
A Holistic journey for your child.
Aadyant, which is formed by the sandhi of "Adi" and "Anth", the beginning and the end is associated with child development, using highly researched and practically sound techniques. Aadyant is where education is about imparting knowledge, it's about encouraging children to do significant things with what they've learned.
World Class Infrastructure
Aadyant has world-class infrastructure and state of the art facilities providing a fulfilling and rich environment "where the beginning of your child's education begins ".
Aadyant is a child-friendly, safe, hygienic, purposefully-built, colourful, beautifully designed and well equipped Pre & Primary school. The well maintained clean comfortable classroom and various activity areas are uniquely designed to cater each child's needs, abilities and development level.
FULLY SECURITIZED AND SAFE
Aadyant has all round security for the safety of its students. All measures are taken to generate security at School. The campuses are secured so that only authorized staff and families may enter. No child will be released to any unknown person without written authorization and proper identification. The entire campus has CCTV surveillance. Access to all classrooms is monitored and controlled to ensure security24 X7 at Aadyant.
Mobile App
Taking school – parent communication to a higher level, we have a mobile app for a faster, more efficient, and transparent connect between the school and parents. With school mobile apps in hand the parents, teachers & students can feel more relaxed and easy to stay connected.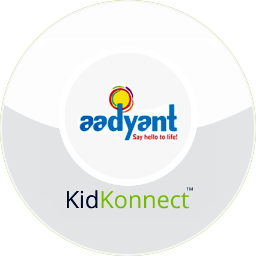 The life we envision for every child is of her becoming a conscientious global citizen, and a creative, and concerted problem solver. We work towards a holistic development of every student and pedagogical tools provide us with the behaviours, actions, measures, and structures that are a translation of intentions.We also give due attention to academics as well as co-curricular activities. Apart from these, special emphasis is given to promote a clean and green environment through various activities, to induce one of our core beliefs – Sustainability.
Smart Class Room
Class rooms with latest technology that aids to enhance teaching outcomes and learning.
Creativity Studio
A dedicated space for performing arts and imaginative expressions, the studio helps the students to express themselves artistically. It also houses a library for all the young avid readers.
Sports
Bringing out their innate talent in sports, the children are involved in various sports.
Learning Chamber
In the Montessori methodology, kids make creative choices in their learning, while the teachers use a combination of self-directed activities, hands-on learning and collaborative play to guide the process.
It has always been and will continue to be our sincere endeavour that the journey of each child at Aadyant is enlightening, enriching and enduring.
AADYANT SCHOOL
10-11, Nelson Mandela Marg Vasant Kunj, New Delhi -110070, India
Tel: 011-46031000, 9310374746
Fax: 011-46031020
Email: info@aadyant.com
Visiting Hours: 10:00 -12:00 and 1:30 – 3:30pm (Monday to Friday)